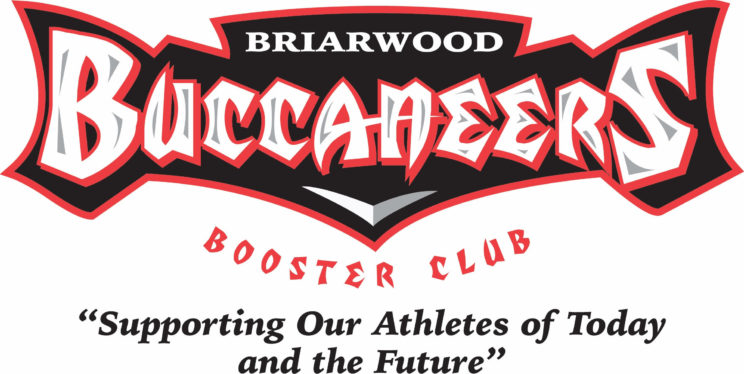 The Booster Club
The Booster Club is an active organization, which works to support all of the extra curricular activities throughout the school year.  This group of parents and friends of the school sells ads for the football program, works at concession stands, mans the gate at sporting events, and organizes money-making projects to support the extra curricular activities of Briarwood.
Briarwood Booster Club Information for the 2017-2018 School Year
Spring Sports Concession Stand Duty
---
Posts
 Briarwood Buccaneers Sports Passes will be available at Open house on August 3. We will be set up in the gym for fans to purchase their booster club passes from us. Price is $85.00 each! We will also have some in the school office to purchase as well. The admission to sporting events will be $8.00 each for adults; so purchasing a pass will save you money over the long run!!  Thank you for supporting the Booster Club!!
Yearly Booster PassBooster Club Passes for the upcoming school year will go on sale the night of Open House, Thursday, August 3, 2017. This pass is good for ALL Briarwood Academy home sporting events with the exception of region and state playoff games or tournaments. This includes varsity, middle school, and mighty bucs football, varsity and middle school softball, varsity, b-team, and middle school basketball, varsity and middle school baseball,  varsity, middle school, and mighty buc track meets, varsity and middle school cross country meets,  and varsity soccer.Cost for Booster Club Passes are $85.00 each Football Field SignsCost for football field signs and contact information are listed below:New football field sign – $150

New football field sign and one (1) booster pass – $225

Football field sign renewal only- $100

Football field sign renewal and one (1) booster pass- $175

If you would like to renew a sign or purchase a new one, please contact Wendy McMichael (706)699-4559 or the main office (706) 595-5641 for more information.

Sports Program Photos for Ads

Photos for the 2017 fall sports program are due NOW. Please contact Whitney Bradshaw with any questions or additional information. Her information is listed below:

Whitney Bradshaw

(706) 474-0250 (Cell)

Booster Club Calendar

July 28, 2017 (Friday)     

Picture Day for the Fall Sports Program

The following groups will be photographed on this day (athletes will be contacted by their coaches with a specific time for pictures).

2017 seniors for the cover picture (this includes any senior that participates in any sport throughout the year).
Varsity and middle school football
Varsity and middle school softball
Varsity and middle school cheerleading
Varsity and middle school buccanettes (twirling)

Also anyone needing a picture for a particular add will have their picture made on this day. If you have any questions, please contact Whitney Bradshaw (706) 401-4656 for more information.

August 12, 2017 (Saturday)

Booster Club Clean Up Day (8:00 am)

This is a day scheduled for all parents, students, and supporters of Briarwood to come help clean and "spruce up" our school and sporting facilities. We will clean concession stands, restrooms, cut grass and weeds, put pine straw out, etc. We would like for parents to bring cleaning supplies, yard tools, and mowers.

The image that our school projects to our visitors is very important. We would like for our school to look its very best when other schools come to visit.

  Concession Schedule for 2017 Home Football Games

August 18 (Friday)                 Westminster of Augusta                   Varsity – 7:30

                                                7th Grade – Pre-game until start of halftime

K-5 – Start of halftime until end of game

August 24 (Thursday)                        EBA                                                     Middle School  6:00                                                   11th Grade – Entire Game                              

August 25 (Friday)                 EBA                                                     Varsity – 7:30

                                                6th Grade – Pre-game until start of halftime

K-4 – Start of halftime until end of game

August 31 (Thursday)                        Glascock County                                Middle School- 6:00

                                                10th Grade- Entire game

September 7 (Thursday)       TJA                                                      Middle School- 6:00

                                                9th Grade – Entire game

September 8 (Friday)                        Dominion Christian                           Varsity- 7:30

                                                5th Grade – Pregame until start of halftime                                                                           1st Grade – Start of halftime until the end of the game

 

September 14 (Thursday)     Brentwood                                         Middle School- 6:00

                                                11th Grade – Entire Game

September 15            (Friday)           Trinity Christian  *Homecoming      Varsity – 7:30

4th Grade- Pregame until start of halftime                                                                                                               2nd Grade- Start of halftime until the end of the game

September 19 (Tuesday)       Trinity Christian                                 Middle School 6:00

10th Grade –  Entire Game

 

October 6 (Friday)                 Monsignor Donovan  *Sr. Apprec.              Varsity- 7:30

                                                8th Grade – Pregame until start of halftime

3rd Grade –  Start of halftime until the end of the game

 

Concession Stand Information

For each game, the money box will be brought to those who are in charge of the concession stand and will also be picked up after each game by the booster club president or a member of the Briarwood office staff.
All food, drinks, condiments, and paper products will be purchased ahead of time for you. All supplies that are needed to operate the concession stand will be provided, and stored, in the concession stand.
Cooking for varsity games should begin no later than 5:15 pm. The concession stand needs to be ready to serve no later than 6:00 pm. Cooking for middle school games should begin no later than 4:30 pm and be ready to serve by 5:15 pm. Most people will eat before the game and during halftime. A minimum of two cooks, one person to stuff sandwich bags and fill trays, and four to six counter workers are needed for all games.
Grade mothers should contact their workers in advance about working in the concession stand. Grade mothers are responsible for having an adequate number of workers for their grades work time. Grade mothers can contact Mrs. Teresa Mimbs in the office for a list of class parent names and phone numbers.
The concession stand should be cleaned after each game. There will be a cleanup list posted in the concession stand to follow. If you run out of anything, please let Mrs. Wendy McMichael know or you can leave her a note in the money box.
If any food is left after the game, please box up the leftover food and we will give it to our players.

 

For opportunities to volunteer and serve, or to present comments and suggestions, please contact the booster club via email at buccaneersboosterclub@briarwoodacademy.com

 

 

 
---